Furnished Apartment in Basel
This is a lovely apartment, and as our guests often say, it's the perfect location, if you are searching for accommodation for relocation to Basel, business, or a holiday.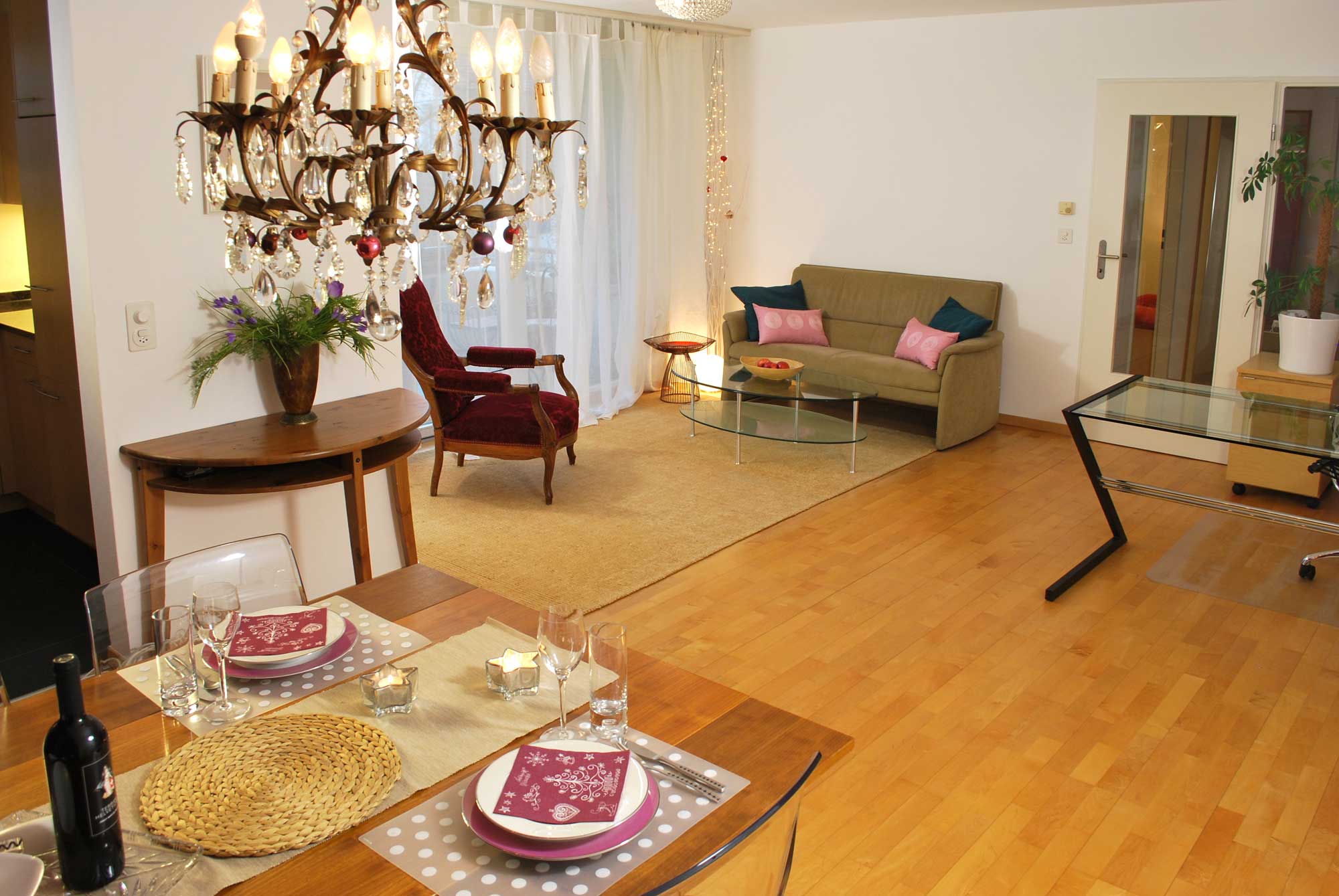 Internet
This accommodation comes with free high-speed internet with secure wireless access.
Perfect Location
You will be staying in a very quiet neighborhood, yet just minutes from tram and bus station going to the heart of the city and the train station – bus #33: 12 min to University Hospital! Tram #8: 12 min to main train station!
Intercom
The apartment comes with an intercom system for the building entry to provide safety.
Standard
Floor heating, granite counter tops, dishwasher, ceramic glass top stove.
Terrace
Squarish shaped terrace. Invites to enjoy a leisure evening.
Ideal for Relocation to Basel, for Working and Visiting
This fully furnished apartment is situated in a friendly neighborhood just 4 walking minutes away from the tram station #8 (takes 12 min. to the main train station) and the bus line #33 that brings you directly to the University Hospital and the city center. The apartment is on the 2nd floor and is facing the courtyard of the small building complex that is set back from a small side street. One can walk to the recreational forest and to the nearby shopping facilities with restaurants and take-away deli. The apartment is furnished to a high standard featuring an open, fully equipped kitchen including stove, oven, dishwasher, big fridge and freezer, and other kitchen gadgets. The lounge and dining area is spacious providing comfortable surrounds and a generous space to relax and entertain. The wooden floor in living area and bedroom add warmth and style, accentuated by the black tiles in bathroom and kitchen and the black marble counter tops. The apartment has floor heating – nice when it is cold outside or when stepping out of the shower. The apartment also includes high-speed internet with secure wireless access. A private landline can be accessed when rented longterm.
Details
55 m2, double bed sized 160x200cm
2 rooms: 1 bedroom with a double bed, cupboard, 1 big open living room with sofa, working desk and dining area
Kitchen with dishwasher, stove, oven, toaster, tea kettle, big fridge, separate freezer, cooking utensils and tableware, espresso machine etc….
Bathroom with bath tub
Terrace
Floor heating in all rooms
Intercom system
High-speed Internet and WiFi
Linen and towels
Furniture rotation
Quiet house and street
Contact Us Today For A Quick Quote
The apartment is suitable for 1-2 persons. A minimum of 4 days are required and a maximum of 3 months.
Contact us for discounted rates for durations ranging from 3 weeks to 12 months, enquire today and get a quote. Prices include utilities and internet. The Lovely Basel Apartment is the hotel alternative if you like to enjoy privacy and convenient infrastructure combined with the luxury of space.
Apartment per night:
CHF 135.–/night* (min 4 nights)
Includes a welcome basket, fresh towels, free Wifi.
Plus one time charge for end cleaning.
During special events & fairs, market rates will apply.
Monthly Rent
Rates from CHF 1,920.– to CHF 2,390.– * per month
Includes a welcome basket, fresh towels, free WiFi, electricity, heating & water, taxes and VAT.
Rate for 6 months and longer will be reduced, please ask us.
Plus one time charge for end cleaning.
Optional:
Servicing 2x/month:
CHF 240/month
Premium Accommodation for ART Basel
Looking for a hotel or accommodations for Art Basel? Don't get a hotel – instead, have your own apartment and enjoy the luxury of having your own space to relax, organize, and enjoy your stay worry free. Your own kitchen, your own bed – your own space.
During ART Basel CHF 230.–
Includes a welcome basket, fresh towels, free WiFi, electricity, heating & water, taxes and VAT.
Plus one time charge for end cleaning.
All data are subject to change without prior notice.
For booking inquiries please kindly use the form below:
Apartment for Business & Vacation
Fully Equipped Apartment – The Hotel Alternative
We know that you expect to have an easy and comfortable stay while in Basel. We made the apartment fully equipped for working situation combined with leisure. The design is practical with a touch of urban living and antiques – the antique chandelier comes from Paris and is a true gem, combined with a rustic retro dining table  and contemporary high standard kitchen. The office desk is ready for you to take care of business.
Location
Walking: Few minutes walk to Paradies shopping mall with electronics, pharmacy, groceries, take-away deli, roof-top restaurant….
University Hospital: 12 min by bus 33, 8 minutes by bicycle!
Schifflände (the heart of the city): 14 min by bus 33
Main Train Station (SBB): 12 min by tram 8
Airport: By taxi/car: 15-20 min to Euroairport Basel
As our recent guest mentioned: "it's a perfect location, I'm within short time in the city center or at the train station." These guests stayed for 7 weeks with us till they found their own apartment to rent just few streets away. They loved the area so much.
When looking around for a location to live long-term consider taxes and health care plans, since rates can vary quite a lot depending on the location. This apartment is literally 5 meters across the city line, in Basel-Land, and is in term of taxes and healthcare rates very favorable and a good choice.
CURRENCY
Swiss Franc (CHF)
COUNTRY CODE
+41
ELECTRIC POWER
240 V
TIME ZONE
GMT +1
AVG. PRICE OF A COFFEE
€4.45
AVG. PRICE OF A MEAL
€51.83
NEARBY CITIES
Liestal (20km)
Freiburg, Germnay (70km)
Zurich (88km)
The City of Basel
From Basel Tourism: "Where Switzerland, France and Germany meet lies Basel, at the heart of a trinational metropolitan area. In this unique location, the city has much to offer: an international flair, good schools, innovative research, a thriving economy, an excellent regional and international transport infrastructure, a rich cultural life and a high standard of living. …Last but not least, Basel is the second-sunniest place in Switzerland."
Make a Payment
If your booking is approved and you would like to make a payment by credit card, you can use the button next to this text.